Shoot your 360° video
Shooting a 360° video can be as simple as pressing record and capturing what's happening around the camera. This may sound simple, but there are certain things to keep in mind when shooting a 360° video.
Camera Control & Feedback
For 360° cameras there are two ways to control the camera: (1) ad hoc via the camera and (2) remotely via a mobile application. Most vendors will offer apps compatible with Android and iOS, which allow you to connect to the camera remotely via WiFi or Bluetooth and control it.
In order to start and stop a recording all cameras offer the simple and straight forward possibility to press a physical button on the camera – as known with regular camcorders. The status of the recording is indicated through LEDs and depending on the camera you may have small screens showing the battery level and the time left to record (as depicted in Figure 1 below).

Figure 1: 3 different status screens & indicators on 360° cameras
When comparing a regular camcorder with a 360° video camera, one will immediately recognize the missing preview screen with some cameras. As an example the Ricoh Theta V (and the Z1), Insta360 ONE X and Samsung Gear 360 do not have a preview screen in order to check the angle and composition of your video picture.

Figure 2: 3 different preview (touch-) screens on 360° cameras
In order to review your video composition you will need to either use a 360° camera with a preview screen, such as the GoPro Max or the Insta360 ONE R. In any case you can connect to all of the cameras via a mobile application on your smartphone and review your viewing angle, control the recording and even transfer your video files.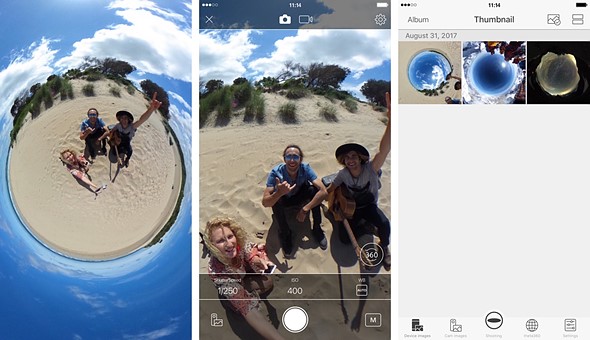 Figure 3: Ricoh Theta V App screenshots as seen in the Apple Store
Controlling your 360° camera remotely may also have the benefit of reducing your post processing time as you can optimize your start and stop scenery by placing yourself outside the viewable frame (e.g. behind a pillar or wall, still in connective distance) and starting and stopping the recording from a distance.
Summary
Shooting a 360° video is different due to the fact that you are always in the view of the camera. Also, the form factor is different and controlling the camera can be done via a paired mobile device. Additionally, one does not always have the option to immediately get feedback on the video picture composition. This makes shooting a 360° video different than simply pressing record on a regular camcorder.
If you want to learn more about using and interacting with your 360° video, click here to learn more about actually using a 360° video.